HOME / Product information / Creel Stand BF

Kamitsu offers new compact type unwinding creel for high performance fibers like carbon fiber, glass fiber etc. Constant and stable unwinding tension can be fed from full package to the end without causing fiber twist.
The required tension can be easily obtained by changing package installing position. Simple and compact spindle unit has achieved its stand frame construction for wide range applications in several high layout with both single and double sides.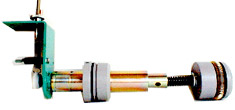 Type
BF
Yarn type
Carbon fiber, glass fiber, Aramid fiber etc.
Unrolling speed
Max. 15m/min
Winding bobbin
76φ×280mm(length) 
Traverse length
10inch(254mm)
Winding package
Max.250mmφ
Unwinding tension
1.47-2.94N(150-300gf)
or 2.94-5.88N(300-600gf)