HOME / Product information / Unrolling Machine EF

This is the unrolling machine to coincide with the processing speed of equipments installed before EF Machine and to positively unroll the most delicate yarns or fibers such as pitch carbon fiber, ceramic yarn, medical hollow fiber, finest denier of monofilant yarn etc. This machine is applicable to positively unroll yarns or fibers at constant and lower tension from horizontal type of the creel or to unwind multiple yarns or fibers onto one package, as the supply device(creel).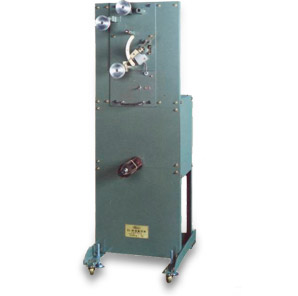 Model
EF
Unwinding speed

For low speed

Max. 20m/min

For high speed

Max. 400m/min
Unwinding bobbin

Tube inside dia

52-300mmφ

Tube length

 110-350mm L
Unwinding bobbin
Max.φ380mm
Unwinding tension

early tension

 0.049-2.94N(5-300gf) than shorter

control device

dancer roller
pressure
9.8-29.4N(1000-3000gf)than shorter
Drive system

For low speed

Variable speed type AC motor: 25W,40W

For high speed

Variable speed type AC motor: 100W, 200W
Electrical device
3 phase,200/220V, 50/60HZ
※Step-down Toransformer will be reguired when using the machines at
the aria of Different power supply.