HOME / Product information / Tapes Winder EKTW-A-VC

A bobbin traverse system take-up winder to take-up covered wires in pail barrel shapes in tune with the supplying speed from the supplying machine.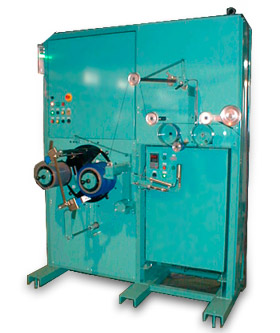 Model
EKTW-A-VC
Yarn type
Carbon fiber(1000-12000), covered wires(φ1-4mm), etc.
Unrolling speed
Max. 300m/min
Winding package
barrel
Traverse length
6inch(152mm),8inch(203mm),10inch(254mm),12inch(305mm)
Winding package
Max.φ400mm
Control device
dancer roller tension system
Pressure
9.8-29.4N(1000-3000gf) than shorter
Drive system
Variable speed motor: KS100W, Individual drive
Machine construction
3rows×Max.5 lines(one machine)
Number of frame
1 frames/1 machine
Number of bobbin
2bobbin/1 frame
Electrical device
3 phase,200/220V, 50/60HZ
※Step-down Toransformer will be reguired when using the machines at
the aria of Different power supply.