HOME / Product information / Industrial material winder KTAW

Full automatic control device by computer system. All figure are set and displayed on screen. And automatic Bobbin change.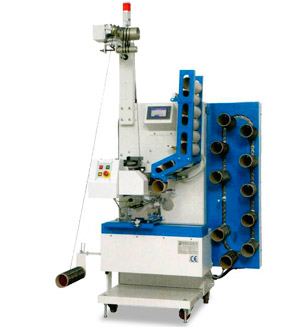 Type
KTAW
Yarn type
Carbon Fiber, Aramid fibers, Ceramic fibers, Glass fibers, etc.
Shape of package
square end cheese,
0-00'
Traverse length
254mm
Size of full package
Max.145mmφ
Winding bobbin
D76~77.5×OD83×L280mm
Winding speed
Constant speed of 50-150m/min to be inputted digitally though monitor screen
Winding tension
By tension roller(79.5mm in dia) to be controlled by hysteresis tensioning brake 0.5~12N(50~1200g)
Pressure
0.5~4kgs.
Bobbin holder
Automatically functioned spindles-less type
Pwoer supply
AC200V, 50/60Hz.
Compressed air
0.4-0.6MPa(5-6kgf/cm2)
※Step-down Toransformer will be reguired when using the machines at
the aria of Different power supply.