HOME / Product information / Take up winder EKTW-CA-2cop(EKTL-C Series)

This is Take up winder with a 2cop function and an auto bobbin chande specifically developed to achieve double productivity while saving space. This machine offers practical, high speed winding (max.1,000m/min.) with a wide range of applications which includes winding metallic fiber, glass fiber, and industrial materials like Aramid fiber.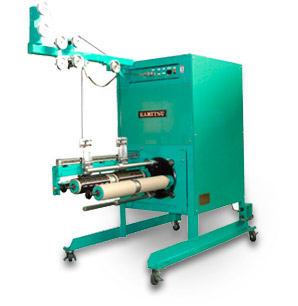 Model
EKTW-CA-2cop
Yarn type
Carbon fiber, tire code, etc.
Number of filaments
1000-24000
Unrolling speed
Max. 80m/min
Winding package shape
square end cheese (0-00')
Winding bobbin

Type

paper cone

ID

 76φ
Traverse length
10inch(254mm)
Winding package
Max.240mmφ
Unwinding tension

early tension

 0.049-2.94N(5-300gf) than shorter

control device

dancer roller
Pressure
7.8-29.4N(1000-3000gf) than shorter
Drive system
Variable speed motor: KS200W Simultaneous drive
Machine construction
3spindles
Electrical device
3 phase,200/220V, 50/60HZ
※Step-down Toransformer will be reguired when using the machines at
the aria of Different power supply.