HOME / Product information / Take up winder EKTL-29D-350 (EKTL Series)

EKTL is mainly used for large package winding including precursor of PAN carbon fiber and also heavy industrial yarn. Many models are available depending on package size.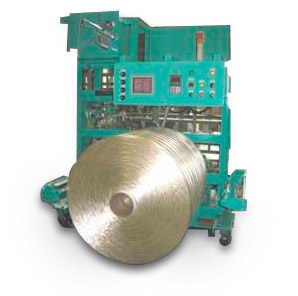 Type
EKTL-29D-350
Yarn type
thick denier filament etc
Number of filaments
1000-30000 Denier (3000-48000)
Unrolling speed
Max.450m/min
Winding package shape
square end cheese roller (0-00')
Winding bobbin

Type

paper cone

SIZE

133φ( ID ) / 10mm( length)
Traverse length
29inch(737mm)
Winding package
Max.900mmφ
Winding weight
Max.360kg
Unwinding tension

early tension

0.94-19.6N(300-2000gf) than shorter

control device

dancer roller tension system, PID control device
Pressure
39.2-117.6N(4000-12000gf) than shorter
Drive system
geared motor : 3.7kW
Individual drive
Machine construction
1 bobbin(one machine)
Air pressure
0.5-0.6MPa(5-6kgf/cm2)
Electrical device
3 phase,200/220V, 50/60HZ
* Step-down Toransformer will be reguired when using the machines at
the aria of Different power supply.