HOME / Product information / Take up winder EKTW-CL(EKTW-C Series)

Based on EKTW-C, full functioned winding system inspires the next innovation of the fiber. This can wind ratio maximum diameter of 350 mm.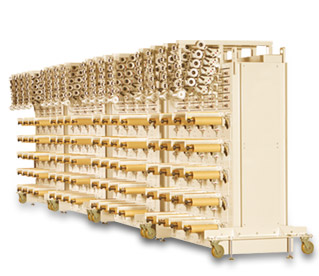 Model
EKTW-CL
Yarn applicable
Carbon fiber and others
Yarn denier (Filament)
1000-24000 filament
Winding speed
Max. 150m/min
Shafe of package
Square end cheese (0°00')
Winding Tube

Type

Paper tube etc

Size

IDφ76mm(Standard)
Traverse length
6"(125mm) 8"(203mm)
10inch(254mm)
Package diameter
Max.φ350mm
Approx. Weight of Full Package
Max. 46.6kg(17"), Max. 80kg(20")
Tension

Winding Tension

50-1000g with tension release

Control System

Dancer roller tension system
Contact pressure
0.8~3kg with pressure release
Driving system
Variable speed type AC motor 100W
Individual drive on each spindle
Constraction frame
5 head high 4lines frame
Electricity to Winder
3phase 200V 50/60Hz
※Step-down Toransformer will be reguired when using the machines at
the aria of Different power supply.