HOME / Product information / Take up winder EKTW-CX(EKTW-C Series)

Control panel , centralized settings(winding tension, winding pressure, winding speed, wind ratio and length settings) and Monitoring function(Length, operation time, number of packages produced, yarn breakage, down time, etc)are available. Also can communicate with PC through the external out-put terminal.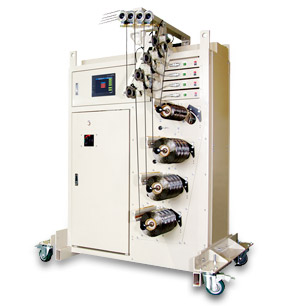 Model
EKTW-CX
Yarn applicable
Carbon fiber and others
Yarn denier (Filament)
1000-24000 filament
Winding speed
Max. 200m/min
Shafe of package
Square end cheese (0°00')
Winding Tube

Type

Paper tube etc

Size

IDφ76mm(Standard)
Traverse length
6inch(152mm),8inch(203mm),10inch(254mm)
Package diameter
Max.φ250mm
Tension

Winding Tension

50-1000g with tension release

Control System

Dancer roller tension system
Contact pressure
1~3kg with pressure release
Driving system
Variable speed type AC motor 100W
Individual drive on each spindle
Constraction frame
5 head high 4lines frame
Electricity to Winder
3phase 200V 50/60Hz
※Step-down Toransformer will be reguired when using the machines at
the aria of Different power supply.